Warrior statues from Mont'e Prama
By Barbara Faedda, Executive Director, Italian Academy, Columbia University and Paolo Carta, Professor, University of Trento
It all began in 1974, when fragments of ancient sculptures were turned up by a plow in a field in western Sardinia. A necropolis came to light; dozens of anthropomorphic stone sculptures representing archers, warriors, and boxers, alongside models of nuraghi (the prehistoric conical towers of Sardinia) as well as numerous sacred stones known as baetyls. Since then, several excavation campaigns have been done, the digging area has expanded, and, little by little, a unique and intriguing history is being revealed to the world here at Mont'e Prama (the "hill of palm trees," in the local language). Meanwhile, the sculptures have been meticulously reassembled by Italian conservators who are global leaders in non-invasive diagnostic techniques and fully reversible treatments (which do not alter the objects).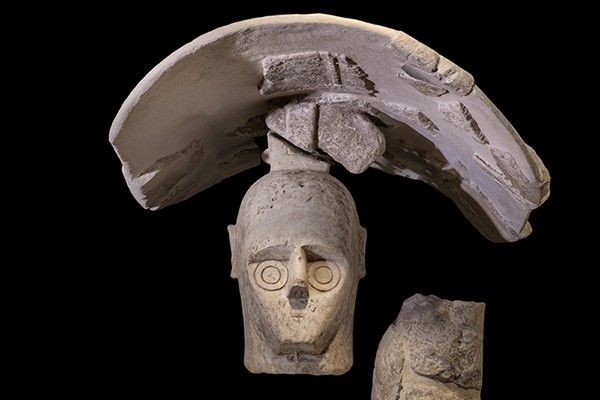 The giant statues—some as tall as 7 feet (2 meters)—and the individual tombs throughout this monumental necropolis make Mont'e Prama uniquely rich in its detailed representation of a culture's values and traditions. At this sanctuary necropolis, high-ranking young men were honored in the same way as the ancient heroes of the past. Military, political, and religious values were conveyed in this sacred space, which symbolized the specific identity of the society and granted a powerful sense of belonging.
Mont'e Prama is a remarkable example of how islands and insularity shaped the world in ancient times. It gives us the opportunity to delve into beliefs, values, and practices of a community that lived in the Mediterranean basin in the Bronze Age and the Iron Age, a period of transition that was full of cultural challenges and social developments. With great respect for the past and a creative vision of the future, the community at Mont'e Prama was a world within a world, from which precious information on the human past continues to emerge.
This digital exhibition is only a small initial presentation of a series of studies—commissioned by the Italian Academy's International Observatory for Cultural Heritage—written by distinguished scholars in the field of Sardinian and Mediterranean archaeology, experts in restoration and conservation, and lawyers battling the illicit trafficking of artworks. While the digital exhibition is designed to open doors for scholars, students, and the general public, the complete opus—which will be published as a physical book in the next few months and will include more authors—aims to offer a more extensive and detailed account of one of the most fascinating cases of Mediterranean archaeology.
The digital exhibition and book project are the first initiatives in a three-year program developed with a grant from Italy's Autonomous Region of Sardinia to highlight Sardinia's cultural heritage. This program is developed under the umbrella of the Italian Academy's International Observatory for Cultural Heritage, which is dedicated to all issues relating to the survival, protection, and conservation of cultural heritage, and which sponsors and encourages research on monuments, artifacts, practices, and traditions.
Acknowledgments
We could not be more grateful to the scholars/contributors: Peter van Dommelen, Giuditta Giardini, Roberto Nardi, Alfonso Stiglitz, Emerenziana Usai, and Raimondo Zucca.
We thank the Autonomous Region of Sardinia / Regione Autonoma della Sardegna for its support, and Fondazione Mont'e Prama for its valuable collaboration.
Special thanks are due to Abigail Asher, Kathleen Cagnina, Dante Silva, Rebecca Winterich-Knox, and Anita O'Brien. We are also grateful to Jane Botsford Johnson and Francesco de Angelis.
---
In memory of Antonietta Boninu and Guido Clemente.